27-09-2017, 14:12 (Este mensaje fue modificado por última vez en: 27-09-2017, 14:19 por payoloco.)
Campeonato del Mundo de F1
#15. Gran Premio de Malasia 2017



SEPANG
ADIÓS CASSINI.........ADIÓS HONDA.

Lo veis?

Veis ese puntito?

En la enormidad del espacio?
Próxima a la fastuosidad de Saturno y sus babilónicos anillos?

Es la sonda Cassini, horas antes de adentrarse en la atmósfera de este gran planeta para ser engullida, devorada.

Y desaparecer. Para siempre.

Bon voyage, Cassini.


Podríamos hacer una fácil analogía con Honda, imaginando que ha sido nuestra particular sonda Cassini.

Si al menos nos hubiera dejado un puñado de bonitas fotografías....

A ti Honda, ni el saludo.




HORARIOS
(Horario en España)



Viernes 30 de septiembre:


LIBRES 1: 05:00h-05:30h
LIBRES 2: 09:00h-09:30h



Sábado 1 de octubre:


LIBRES 3: 08:00h-09:00h
CLASIFICACION: 11:00h



Domingo 2 de octubre:


CARRERA: 09:00h

EL TRAZADO
FERNANDO ALONSO Y EL GP DE MALASIA




Como tuiteaba el propio Fernando esta semana, el difícil circuito de Sepang es uno de los favoritos de Alonso, al que está ligado de manera especial y en el que ha cosechado no sólo grandes números sino además protagonizado algunas de sus mejores carreras de siempre.

Este ha sido el paso del español por este circuito, resumido en algunas imágenes y videos:




2003:


Aquí está "Fernandito" levantando el dedo victorioso.
Fue aquí su primera victoria en la F1? El que lea este foro y no sepa esta pregunta seguramente se merezca una colleja.
Aunque lo que quizá no recuerde por ser menos trascendental es que aquí fue donde Fernando Alonso logró su primera pole position.
Esa felicidad, aún virginal, así lo demuestra. Renault, de hecho, copó la primera línea en clasificación, aunque luego no pudo aguantar el ritmo superior de carrera de Ferrari y McLaren.
Michael Schumacher observa a Alonso con cierta simpatía, quizá todavía desconociendo que se encontraba al lado del que 3 años más tarde sería el piloto con el que se jugaría el título hasta la (pen)última carrera.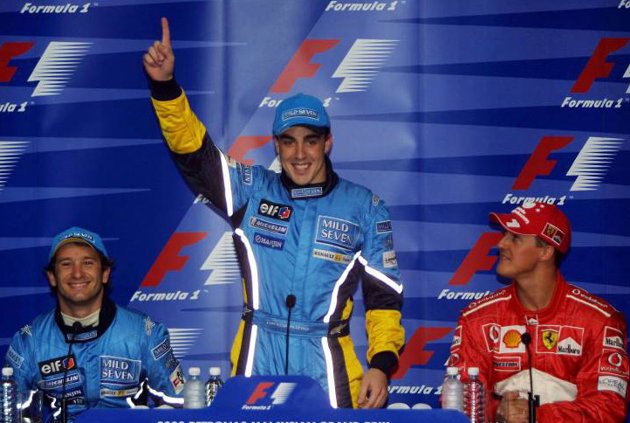 El domingo, nuevos resultados para el recuerdo, con la primera victoria en la carrera de Kimi Raikkonen.







2004:


No se corrió.




2005:


En el último año de los bárbaros motores V10, esta vez sí, Alonso logró la que era su primera victoria en el circuito de Kuala Lumpur.
2ª carrera del año y primera victoria....la cosa pintaba bien y yo creo que todos sabíamos que estábamos ante algo especial, y más con una Ferrari totalmente desdibujada tras el cambio (un poco a traición) de los neumáticos para que durasen toda la carrera.
En el podio le acompañaban el que durante los dos años anteriores fue su compañero de equipo y....recordáis quién es el otro piloto? (la verdad es que cuesta reconocerle)




'Fisico' no pudo hacer buena su tercera posición en qualy al verse en un enganchón con Webber.







2006:


Si 2005 fue al año de Fernando y Fisico se quedó sin probar el éxito, este año sería justo al revés.
Pole y victoria para el piloto italiano, mientras que Fernando sólo pudo calificar 8º, aunque luego lo arregló durante carrera para terminar 2º y lograr así el primer DOBLETE de Renault en su segunda era en la F1 (2002-2011).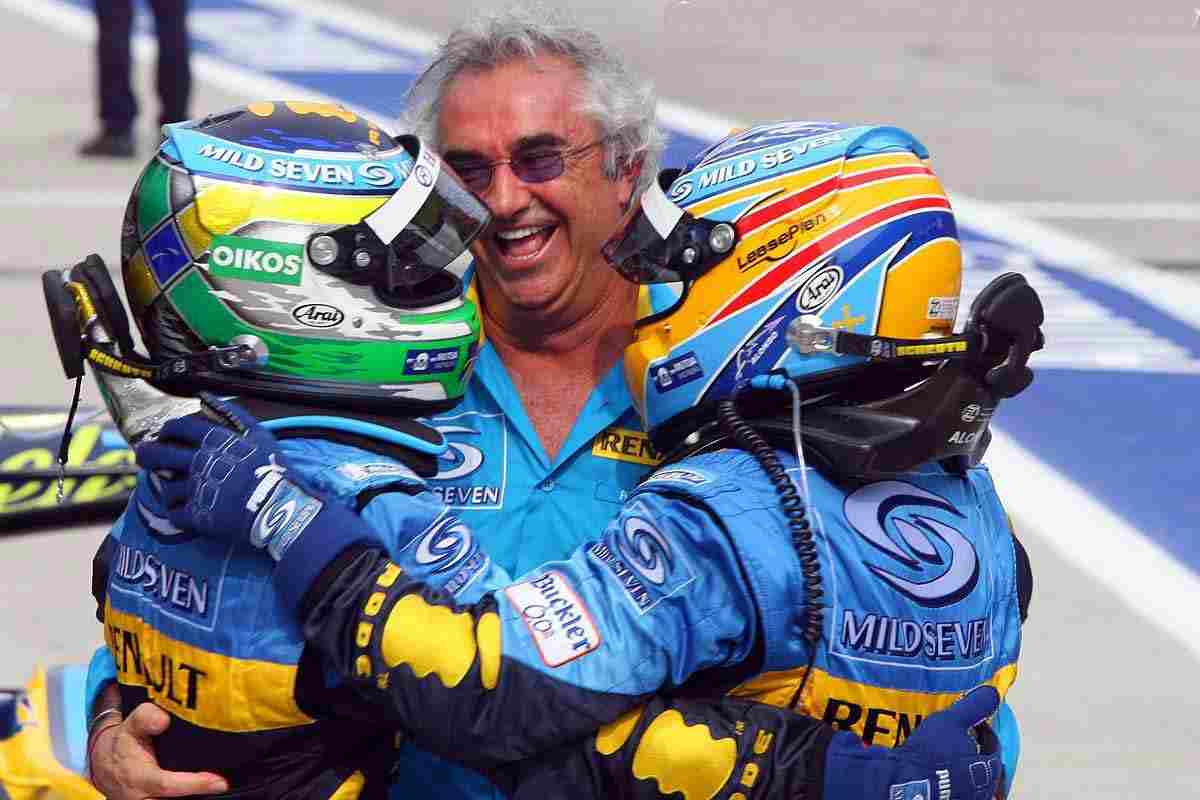 2007:


Los Ferrari y los McLaren se entremezclaron en la qualy, con pole de Massa, pero ya en la salida los Mclaren se pusieron primero y segundo.
Gran victoria de Fernando que terminó 17 segundos por encima de Lewis. Por aquel entonces, en esta 2º carrera las cosas aún estaban tranquilas....







2008:


Con el R28 de la primera mitad del año poco se podía hacer. Fernando hizo 8º tanto en qualy como en carrera.
Massa no supo hacer buena su pole terminando en la grava a mitad de carrera, lo que nos permitió ver un duelo de alto nivel entre Kimi y Kúbica, que con aquel BMW de la primera mitad de 2008 plantó cara durante muchas carreras a los más rápidos Ferrari y McLaren. Tal fue así, que Kúbica en la séptima carrera se puso líder del campeonato.







2009:


Ya sabemos que el R28 hacía bueno al R29 (ahí es nada) así poco se puede decir de esta carrera en la que Alonso solo pudo calificar 10º y acabar el 11º....
Nada? Bueno nada para los "wikipedistas", que miran esos datos y dan por sentado que no pasó nada relevante.
Pero sin embargo Fernando hizo una de sus mejores salidas (en mi opinión) poniéndose 3º (!!!) tras la tercera curva y adelantando, entre otros, a los RB, a un BrawnGP, a un Toyota....(en el año, recuerdo, de los difusores dobles).
Ahí es nada. Insisto, para mí, una de sus mejores salidas (por lo difícil de las curvas 1 y 2 y el contraperalte de la 3).

No he sido capaz de encontrar la salida con más calidad, pero ahí va:
https://youtu.be/c4J-GGzuQLc?t=10m58s

Después, en la carrera, se impuso la superioridad del BrawnGP al Toyota







2010:


Primer año en Ferrari y primera cagada en la clasificación.
En condiciones de húmedo a seco, no estuvieron listos desde el muro, nos arriesgamos a no salir más en la Q1 y luego todo el mundo mejoró.
Así que ahí nos quedamos con cara de pardillos (junto a Massa y Hamilton, que hicieron lo propio).

Luego, y pese a que probablemente esta carrera tampoco sea recordada por nada especial, Alonso hizo una de sus mejores carreras de siempre.
Tampoco os acordábais? Estamos buenos.....
Por qué? Pues porque Alonso perdió el embrague en la vuelta de formación, y tuvo que hacer toda la carrera sin él.
Tenía que frenar de manera especial en todas las curvas (el engranaje no iba bien del todo) y la carrera se volvió una odisea.
En palabras de Fernando,

"ha sido la carrera más difícil de toda mi carrera, he tenido que improvisar en cada curva. Si me preguntan en un futuro cuál fue la mejor carrera de mi vida, diré que Malasia 2010 y la gente me tomará por loco."


Pese a todos estos problemas, llegó a ponerse 5º en carrera, aunque una mala estrategia le puso 9º y posteriormente una rotura de motor a falta de 2 vueltas le hizo abandonar.
RB hizo aquí doblete.




Alonso acosando a Button.







2011:


El año de los difusores soplados de RB, y el año en el que los McLaren eran rapidísimos, Alonso calificó 5º.




El ritmo de carrera, como durante todo aquel 2011, era bastante bueno.
Eso nos permitió acosar a Hamilton por el 3er puesto durante algunas vueltas, aunque un pequeño error de Alonso acercándose en exceso con el rebufo hizo que rompiera parte del alerón delantero, lo que nos hizo bajar a la 7ª plaza.
Finalmente 6º, pero aún así por delante de Hamilton.

https://www.youtube.com/watch?v=opj_RtQLUoA

Petrov nos enseñó todo lo alto que se puede llegar con un coche de F1...







2012:


El año de los milagros. El mejor pilotaje 'anual' que he visto/leído hacer a ningún piloto.
Aquel Ferrari, pésimo en calificación, mejor en carrera, pero aún así peor que los McLaren, los RB.
Fernando salía 8º en una carrera loca que empezó sobre mojado y tuvo que ser detenida en la vuelta 9 hasta que amainara la lluvia.
Antes le dio tiempo a adelantar a Vettel en boxes,
Después, condiciones cambiantes, buena estrategia en el muro de Ferrari, y tan solo 3 vueltas después de la reanudación Fer ya estaba 1º.
El resto de carrera lo conocemos bien, ya que nos tuvimos que defender del acoso de Sergio Pérez, que con su Sauber lograría su primer podio en la F1.




Una de las grandes-grandes victorias de Alonso.
Aquella en la que hizo llorar a Andrea Stella mientras pronunciaba la ya mítica frase

"This is one of the most beautiful. One of the most, most beautiful. We are so proud of you."






Video con los mejores momentos:
https://www.youtube.com/watch?v=WsrwXrp2wfY

Y la última vuelta onboard de Fernando. Muy grande:
https://www.youtube.com/watch?v=LrfWRW1MJhQ




2013:


Este año seguro que también lo recordamos todos.
Empezamos muy bien, no ganamos en Australia pero vimos que teníamos coche, en qualy seguíamos bastante detrás de los RB pero en carrera teníamos ritmo de victoria.
En Malasia clasificamos 2º y 3º (mas-alo), la mejor clasificación en años.
Había muy buenas sensaciones, teníamos ritmo para ganar, y más después de ver que los RB en carrera se desdibujaban.
Además, era la carrera nº 200 de Fernando Alonso en la F1.
Pero en la curva 1, como ya le pasara dos años antes, Fernando cometió un pequeño error acercándose demasiado a Vettel y dañando ligeramente el alerón.
La vuelta posterior la conocemos todos.
El coche echando chispas pero aguantando en ritmo, el coche que no entra a boxes, nos emparejamos con Webber en la recta y....pam.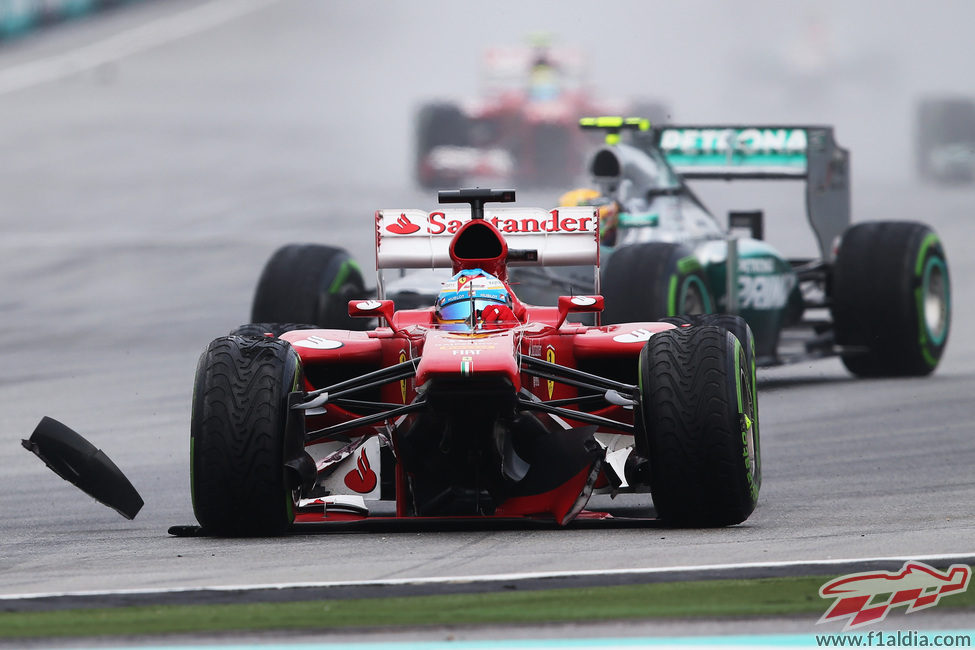 Aquí esas primeras vueltas:
https://www.youtube.com/watch?v=m9IXulkJOHs

Y qué pasó después? Pues dos cosas, la primera que Hamilton se equivocó de boxes, y quiso cambiar neumáticos en McLaren en lugar de en Mercedes.
Y después, aquella carrera nos volvió a dejar muestras de cómo se las gasta Vettel y de su poca categoría como deportista.
Desobedeció órdenes de equipo y se saltó aquel ya mítico 'MULTI 21'....







2014:


Comienza la era híbrida, y como sabemos el F14T no cumplió con las expectativas (no las nuestras, que también, sino las del propio Montezemollo cuando dijo aquello de "somos un equipo que motorista".
Y quién nos iba a decir, tras 3 años en Honda, que aquel Ferrari a día de hoy nos parecería bueno?
Clasificamos 4º a menos de 8 décimas (sí, sí, como lo oyes, pero claro, es que la qualy fue en mojado).
Terminamos la carrera también en 4ª posición. Gran resultado visto lo visto.
Según el propio Fernando,

"el coche es fiable pero le falta velocidad"

.







2015:


Sí, amigos, llegamos a Honda.
Aquí los resúmenes van a durar poco, porque poco hay que contar.
En el primer año con McLaren-Honda, duramos aquí 21 vueltas. No está mal.
Por su lado, Vettel ganó aprovechándose de la errática estrategia de Mercedes.







2016:


El 2º año las esperanzas eran similares, aunque la segunda mitad de año fue ""aceptable"" y terminamos puntuando alguna que otra carrera.
Esta fue una de ellas, con un espectacular 7º puesto de Fernando (tras salir el último).



Hamilton rompió aquí su motor, lo que a la postre significó perder el mundial. Ganó Ricciardo.


PREVIA DE PIRELLI
COMPUESTOS PARA LA CARRERA
La FIA y Pirelli (total ya a estas alturas no nos vamos a asustar de na) decidieron hace un tiempo que NO SE VOLVERÍAN A USAR LOS NEUMÁTICOS DUROS (naranjas) debido a su peligrosidad ya que los equipos son incapaces de calentarlos por su extrema dureza.
Se suman, en cuanto a inutilidad, a los de lluvia extrema, con lo cual de 7 neumáticos posibles solo pueden usarse 5. Ole.
MEDIOS (blancos) +
BLANDOS (amarillos)
+
SUPERBLANDOS (rojos)
+
INTERMEDIOS (verdes)
+
LLUVIA (azul)
[/b][/size]
NEUMÁTICOS ELEGIDOS POR LOS PILOTOS
EL TIEMPO
Temperaturas ALTAS en torno a los 30ºC pero en principio SIN LLUVIA
http://www.accuweather.com/es/my/sepang/...her/229918
TOCA JUGAR AL SERIO


Entre el desastre de Honda y que estamos centrados ya en el año que viene y lo que puede hacer McLaren y Renault, toca ver la carrera como el que ve un documental de la 2.
Esto es, sin emoción ninguna.

De pequeños jugábamos a aquello del serio y el primero que se reía perdía.

Esto es un poco igual. Honda da risa, pero intentemos ser serios. O como mínimo, no llorar.


SALUDOS A TODOS Y QUE ALONSO HAGA UNA GRAN CARRERA!!!


#orgulloALO
"Cuando era niño, soñaba con coches, con olor a gasolina, con viento en la cara, trofeos."
¤ Fernando Alonso ¤